Priority Service Maintenance Program from Nimnicht Isuzu Trucks
---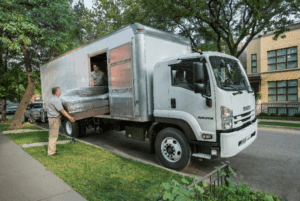 At Nimnicht Isuzu Truck we know that business owners in the moving and delivery industry need a truck that can not only do it all but haul it all, from furniture and appliances, to event supplies, job site equipment and other cargo. Our team of commercial truck professionals can help you find and upfit the perfect box truck to meet your and your company's requirements.
The Isuzu NPR, NRR, NQR, and FTR medium-duty trucks are the perfect selection for your business, no matter your needs. If you are looking for an oversized lift gates, a barn or rollup door, a rear rollup door, or double curb-side doors for side ramping, Isuzu trucks can be upfit to meet your needs. Isuzu box trucks have a gross vehicle weight rating between 12,000 and 25,950 pounds, making it perfect for any commercial or residential moving or delivery journey. Other customizations to your Isuzu truck can include features like an e-track, apitong slats or other hardware to make tying smaller items or securing loads easier.
Reefer Trucks in Jacksonville, FL, and Surrounding Areas
If transporting perishable items is your business, we understand the importance of ensuring optimal shelf life and safe delivery. We can help you upfit a refrigerated box truck, and you can take comfort in knowing items like food, flowers and pharmaceuticals will stay fresh on their way to their destination. The Isuzu N-Series (NPR, NRR, NQR) and FTR have a versatile chassis to accommodate moving and delivery applications, along with gas and diesel options.
More Maneuverability, Reliability and Cargo Space
Isuzu commercial trucks are made to handle any environment, whether it's stop and go traffic or tight turning in urban areas. Congested streets are no match for the easy maneuverability, wheel cut angles and turning ability Isuzu trucks offer.
The low-cab forward trucks have more cab and axel space than conventional cabs with equivalent wheelbases. This allows for versatility in body sizes and up to 2-ft longer bodies with comparable wheelbases. Whether you are moving furniture, boxes or equipment, Isuzu knows space is important for your business.
Moving and Delivery Trucks in Florida and Georgia
Whether your business is right here in Jacksonville, or other areas of Northeast FL or Southeast GA, we are here to help put you behind the wheel of an Isuzu truck that will meet your needs. View our inventory of new trucks to get your Isuzu Truck journey started.
Contact us today to find your next moving or delivery box truck.