Isuzu Commercial Trucks are Better for Your Business
---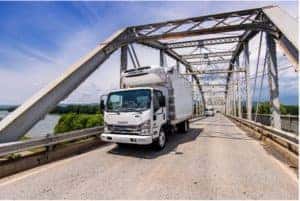 Serving Jacksonville, FL, along with Duval, St Johns, Clay, Putnam, Baker, Nassau, Flagler counties in Northeast FL, and Charlton, Clinch, Echols, Lowndes and Brooks counties in Southeast GA, Nimnicht Isuzu Trucks offers maneuverable, reliable Isuzu commercial trucks with a low-cost of ownership.
Isuzu has a wide variety of options, both new and used, to meet your business's unique needs, including a range of trucks with GVWRs from 12,000 lbs. to 25,950 lbs. The low cab forward design and multiple wheelbases accommodate body lengths from 10 to 30 ft. Additionally, Isuzu's diesel and gas powertrains are among the top of their class in durability and fuel efficiency.
Isuzu Low Cab Forward Design
Compared to conventional cab trucks, vans and cutaways, the Isuzu low cab forward design accommodates up to two feet more body and delivers:
Lower cost of ownership — Understanding the true extent of your investment has always been critical to the successful and profitable operation of your business. Factors like service and maintenance agreements, warranties, repair costs, depreciation and parts all play a role in the total cost of ownership over the life of your commercial truck. Purchasing an Isuzu is one way to lower the overall cost of ownership because you get a quality investment that will serve your business for years to come.
More available cargo space on the same wheelbase — Compared to commercial truck competitors, Isuzu offers more cargo space on the same wheelbase, even spec'd out for your business's application.
Design flexibility — Each Isuzu cab and chassis has several wheelbase options. From there, you can select a box or bed depending on your individual needs. The Isuzu standard cab seats three, or you can opt for a crew cab, which accommodates up to seven passengers.
Durable diesel and gas powertrains — Isuzu engines are legendary for their power, economy and long life, with exceptional B10 ratings on diesel engines and high-mileage design lives. Nimnicht Isuzu Trucks can help you select the diesel or gas powertrain to meet your business's needs.
Easy access to the engine compartment with a tilt-cab design — With their engines fully covered by the cab, cabover engine trucks have robust and reliable built-in cab tilt systems. This integral component tilts the entire cab forward, allowing fast and easy access to the engine for maintenance and repair.
Remarkable maneuverability — Maneuverability is one of Isuzu's design philosophies, and with a 49.5-degree wheel-cut angle, Isuzu trucks allow for a tighter turning radius than its competitors.
Easy entry and exit — With an 85-degree door swing, grab handles, and entry step, Isuzu makes entering and exiting any Isuzu commercial truck a breeze.
Outstanding visibility — Isuzu trucks allow drivers to see the ground within 8 ft. in front of the truck.
Better fuel economy — Isuzu trucks have the level of engineering required to increase fuel efficiency and reliability that less expensive truck brands can't offer.
Top of Class in Quality and Safety
Unlike conventional cab trucks, Isuzu trucks are top of the class in quality and safety measurements like visibility, maneuverability, and reliability. No matter your business, you need work trucks that will do more while costing less to operate, which is exactly what Isuzu offers. Key benefits include:
Visibility
Because the driver sits above the wheels in an Isuzu Low Cab Forward Truck, there is less truck in front of the cab. This gives more visibility compared to traditional cab trucks, making the truck easier to drive and increasing safety.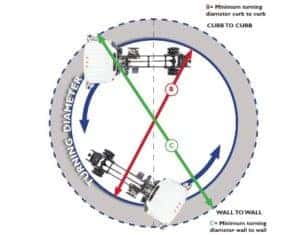 Maneuverability
In addition to great visibility, Isuzu models like the NPR feature an ease of maneuverability you won't find with conventional trucks. Isuzu N-series trucks feature a 49.5-degree wheel cut. This tight turning radius combined with exceptional visibility make this a truck perfect for urban delivery.
Isuzu drivers enjoy other ease of access/ownership features such as large grab handles for easy entry and egress, self-cleaning steps, and that 85-degree door opening that makes those delivery trips less of a hassle.
Reliability
Isuzu's legendary reliability is a testament to how well built the trucks are. They are put to the test every day from the harsh environments of construction to the stop-n-go of home delivery. At every turn, Nimnicht Isuzu Trucks is there to support our owners with robust warranties, quality parts and excellent service and maintenance.
Flexibility
Low cab forward trucks have more cab to axle space compared to conventional cab trucks. This allows for more space in the body and the potential to carry more cargo. It also gives more options when up fitting the bed of the truck.
Whether you need a service body, dump body, dry van or a refrigerated body, Nimnicht Isuzu Trucks can help you spec the right truck for the job.
Warranty and Service Programs
What do Isuzu trucks offer that others don't? The best low cab forward truck is backed by unrivaled product and customer support, a best-in-class warranty and more:
Isuzu Oil Coverage
Isuzu Priority Service Maintenance
Extended Warranty
Roadside Assistance
FleetValue Parts
Why Choose Nimnicht Isuzu Trucks?
With more than 80 years of commercial truck experience, you can count on the expert, dedicated professionals at Nimnicht Isuzu Trucks for a hassle-free commercial truck purchasing experience. We have a dedicated service department with Isuzu Genuine and FleetValue® parts, a second line of parts supplied only through authorized Isuzu truck dealerships, and robust warranties.
We value our customers and take pride in our friendly customer service within all departments at the dealership. Let the Isuzu commercial truck experts at Nimnicht Isuzu Trucks show you around an Isuzu NPR, NQR, NRR or FTR so you can experience the advantages first-hand.