Priority Service Maintenance Program from Nimnicht Isuzu Trucks
---
The Ultimate Service Plan for Your Isuzu Work Truck
Designed specifically for Isuzu trucks, the Priority Service Maintenance Program (PSMP) not only gives you peace of mind, but it allows you to enhance your operating efficiency and control the overall cost of ownership for your work truck.
Our dedicated team of Isuzu professionals understand the manufacturer's service requirements. We know exactly which services are needed and when, and we create a personalized plan for each customer.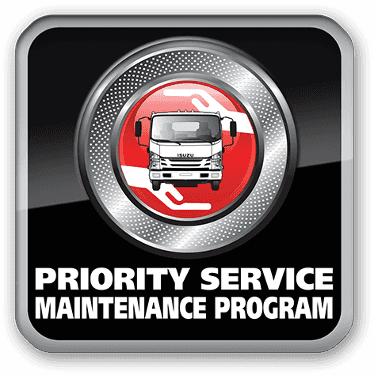 Add the Priority Service Maintenance Program to Your Loan or Lease
Adding the PSMP with your purchase or lease provides extraordinary value over the rising costs of parts and labor and makes servicing simple, as your truck will receive priority service not only at Nimnicht Isuzu Trucks, but at Isuzu dealerships and service centers nationwide.
Isuzu Finance of America, Inc. (IFAI), can include the cost of the Isuzu Priority Service Maintenance Program in your finance or lease program.
IFAI lease and finance agreements can be tailored to meet your specific needs with terms ranging from 36 to 72 months.
You can choose from several lease and purchase plans, including traditional finance programs, TRAC leases with a variety of termination values or a closed end lease. All of these programs are with fixed rates, with no Consumer Price Index (CPI) increases and no inflated Schedule "A" values with reduced depreciation levels.
Set up fees, tax and tags can be included to preserve your operating capital.
Diesel "A" Service
50 Point Service Procedures
10,000 Miles; 20,000 miles; 40,000 Miles; 70,000 Miles; 80,000 Miles
50 Point Service Procedures
10,000 Miles; 20,000 Miles; 40,000 Miles; 70,000 Miles; 80,000 miles
Highlights: Download Vehicle Health Report, Oil / Filter Replacement, Fuel Filters Replacement, Rotate Tires, Driveshaft Flange Torque, Driveshaft Lubrication, King Pin Lubrication, Rear Spring Pad Lubrication
Diesel "B" Service
55 Point Service Procedures
30,000 Miles; 60,000 Miles; 90,000 Miles
Highlights: Most Items Included in "A" Service, plus Air Cleaner Filter Replacement, Windshield Wiper Blade Replacement, Automatic Transmission Fluid Change (N-Series Only), Air Compressor Inspection (F-Series Only)
Diesel "C" Service
60 Point Service Procedures
50,000 Miles
Highlights: Most Items Included in "A" & "B" Service, plus Valve Lash Adjustment, Engine Bolt Torque, Engine Coolant Replacement, Differential Oil Replacement, Steering Gear Box Torque
Diesel "D" Service
65 Point Service Procedures
100,000 Miles
Highlights: Most Items Included in "A", "B" and "C" Service, plus DPF Cleaning, DPF Pressure Sensor Adjustment, DPF Pressure Sensor Hoses, Automatic Transmission Fluid (F-Series Only), Automatic Transmission Filter (F-Series Only), Exhaust Injector, DEF Supply Pump Filter
(All services repeat at 10,000 Mile intervals after 100,000 miles as outlined above)
Optional Add-Ons
Brakes: A Nimnicht Isuzu Trucks trained expert can evaluate your operations and recommend brake replacement to coincide with your PSMP term. This allows a certain number of services at today's pricing over the term.
Tires: By selecting the tire option you will have a guaranteed price for tire replacement. You choose the number and there is no restriction when these tires are replaced. You may need one for a damaged tire, or two or more for normal wear and tear.
Substitute Vehicles: This option provides you a yearly or total set number of substitute vehicles. However, you are not limited to using these for a replacement of your current vehicle, you can also use the units at your discretion for peak periods or just as an extra vehicle.
Additional Programs: Talk with a Nimnicht Isuzu Truck team member about other options to fit your needs.
Nimnicht Isuzu Trucks' Priority Service Maintenance Program is unlike others, in that it is not "use or lose it." This program can be cancelled at any time and unused services are refundable.
We proudly serve Jacksonville, FL, along with Duval, St Johns, Clay, Putnam, Baker, Nassau, Flagler counties in Northeast Florida and Charlton, Clinch, Echols, Lowndes, Brooks counties in Southeast Georgia.
For more information or to learn more contact us or download the brochure.